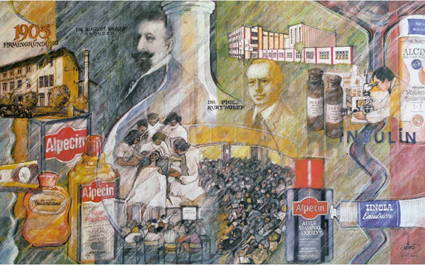 Two companies – one vision
Almost everyone knows our brands Alpecin, Alcina, Plantur, Karex, Bioniq® Repair-Toothpaste, Linola and Vagisan... Be it through popular TV commercials and striking advertising slogans such as "Thank you Lino", "Doping for your hair" or by visiting a pharmacy or drugstore.
We are a Bielefeld-based (Germany) family business in its fourth generation with around 780 employees.
Even though we like to speak of "Dr. Wolff": strictly speaking, we are two different companies: Dr. Kurt Wolff (cosmetics division) and Dr. August Wolff (medical division).
At Dr. Kurt Wolff we develop hair care and styling products, hair dyes, skin care and decorative cosmetics as well as dental care. The brands Alcina, Alpecin, Bioniq® Repair-Toothpaste, Karex and Plantur are at home here.
Dr. August Wolff produces dermatological and gynaecological pharmaceuticals as well as medical and cosmetic products for the Vagisan and Linola brands.
As a medium-sized company, we are surrounded by large multinational corporations. In a sense, we are the Gauls from East Westphalia. And we are different - really different.
We dare to tackle issues that no one else dares to tackle, and we take paths that no one else treads: founded more than 100 years ago as a small factory for the production of pharmaceuticals, we are now one of the largest medium-sized family businesses in the German pharmaceutical and cosmetics market.

Dr. Wolff or in other words: Breach of taboo made in Bielefeld
Hair loss, neurodermatitis, vaginal dryness or caries are topics that others do not like to talk about.
But we do!
The problem solvers that work in our Bielefeld-based research department alleviate the suffering - all over the world: meanwhile, we are active in over 60 countries.
Would you like to know some more figures, data and facts about us?
From Bielefeld to the shelves of this world: Our products are produced and distributed in the tranquil town of Bielefeld in Germany.
Here we work from a total of three locations: in Johanneswerkstraße, in Sudbrackstraße and Stadtheiderstraße. From here, creams, shampoos and pastes find their way across various national borders.
Our products are now available in 62 countries.
In the years 2013 and 2016, Dr. Wolff opened their own locations in Asia. First in Singapore, where ten employees work today, and in 2016 also in Shanghai to serve the Chinese market. Eduard R. Dörrenberg himself lived in Singapore for a while to personally drive the growth in Asia.
Due to cultural conditions, the Asian market offers great potential. In particular, full male hair is considered a status symbol of strength. In addition, there is great confidence in German products. Accordingly, not only the slogan "German Engineering for Your Hair", but also the product quality of Alpecin caffeine shampoos is well received by Asians. The brands Plantur, Linola and, more recently, Vagisan were successively launched in Asia, too.
We currently serve the following markets:
Albania, Australia, Austria, Belgium, Bulgaria, Bosnia-Herzegovina, Chile, China, Croatien, Czech Republic, Egypt, Estonia, Finland, France, Georgia, Germany, Greece, Hong Kong, Hungary, India, Indonesia, Iraq, Ireland, Israel, Italy, Kosovo, Kuwait, Latvia, Lithuania, Luxembourg, Malaysia, Malta, Macedonia, Mongolia, Montenegro, New Zealand, Netherland, United Kingdom, Oman, Pakistan, Philippines, Poland, Portugal, Qatar, Republic of Moldova, Romania, Russia, Sweden, Switzerland, Serbia, Singapore, Slovenia, Slovakia, South Africa, South Korea, Spain, Sri Lanka, Taiwan, Thailand, Turkey, Ukraine, United Arab Emirates, United States of America, Vietnam
We still have white (or grey) spots on the map and there are still many interesting markets to conquer for us.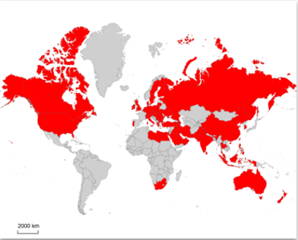 we are considered the largest purchaser of the raw material caffeine after Red Bull?

we dyed the hair of former German chancellor Gerhard Schröder - even if only in an advertisement?

Dr. A. Klenk who appears in our advertisements really exists? He is "indeed" not an actor, but our

long-standing head of research.

the milk powder route also applies to shampoos?